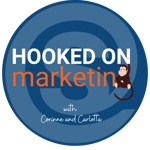 A 4-EPISODE VIDEO SERIES ON HOW TO
ENHANCE YOUR DIGITAL PRESENCE
THROUGH DIGITAL MARKETING
Action Items, Best Practices, Tips and More To Help You Take Your Digital Presence To The Next Level!
This training series aims to provide you with an in-depth understanding of four different marketing strategies and some available tools that can help your business improve its online presence.
#1 Enhance Your Digital Presence with SEO
Hooked On Marketing: "What is SEO? And Some Must-Have, FREE SEO Tools To Use"
The first episode of our series tells you about the importance of SEO and what free tools you can use to improve your business's online presence. Follow our action items and start improving your SEO strategy today!
#2 Get Started With Your PPC Strategy
Hooked On Marketing: "How To Run A Successful Google Ads Program"
Get a grasp on Pay Per Click (PPC) with Episode #2 of Hooked On Marketing! Learn PPC best practices to create effective ads on Google Ads and follow our action items to either start your new PPC program today or optimize your current PPC campaigns.
#3 Lead Intelligence Can
Maximize
Sales & Marketing Efforts
Hooked On Marketing: "How To Increase Leads and Sales with Lead Intelligence"
Episode #3 will help you empower your marketing and sales teams and help them streamline the process of collecting, analyzing, and acting on customer data with lead intelligence. With our tips and action items, you'll be ready to turbocharger your pipeline and nurturing efforts!
#4 What is ABM? Start Your
Account-Based Marketing Strategy
Hooked On Marketing: "How to Start Your Account-Based Marketing Strategy"
Wouldn't it be great to start selling directly to your most qualified accounts? Learn how to do just that through ABM in our fourth and final episode. The right ABM strategy can uplift your marketing revenue by 208% - start watching now!
Carlotta Bartolini Account Manager & Digital Marketing Specialist
An Italian-born strategic troubleshooter, Carlotta has 7+ years of digital marketing experience and a Master's in Integrated Marketing Communications from Georgetown University. She brings her inspiring energy and curiosity into everything she does, she's always willing to help, and goes the extra miles to meet her clients' expectations.
Corinne Underwood Account Manager & Digital Marketing Specialist
Driven by her desire to learn, Corinne is constantly looking for new digital marketing skills to add to her business acumen. Her well-versed background in marketing and lead nurturing is remarkable knowledge to help her clients achieve their goals! She bring outstanding ideas to the table and is an inspiring team player.